A tour to the country of a thousand smiles and the most popular destination of Southeast Asia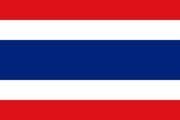 Territory: 514,000 km2
Population: 65,444,371 people
Capital: Bangkok
Official language: Thai
Currency: Bath
Telephone code: +66
Time Zones: UTC +7
Diverse Thailand is one of the most amazing places on earth, in the heart of Southeast Asia. The tourism industry and vibrant entertainment is at its height. At each resort there are hotels for every budget, restaurants with excellent Thai cuisine, bars and cafes, fruit markets, shops. Locals are endlessly smiling and responsive.
Tours to Thailand are invited to combine the rest on the sandy beaches, fringed with palm trees, with riding on elephants, diving, surfing, trips to outlandish islands. Connoisseurs of a rich Asian culture will be able to visit Buddhist temples, theatrical performances with stunning costumes and decorations. Thailand is ideal for families with children, romantics, zen seekers and spa bliss, restless night party people. Everyone is happy here :)
On the beaches of Thailand by the warm sea, you can relax all year round. When it rains and storms in Phuket off the Andaman coast, it is worth moving to sunny Samui in the Gulf of Thailand. Most often, tourists buy beach tours to the islands of Phuket, Koh Chang, Samui and Pattaya.

The best beaches in Phuket, where the dry season is from November to April, are Patong with bars and discos, beautiful and clean Karon, and the peaceful Kamala Beach and Kata Beach. Pattaya is most often referred to as a resort with not the cleanest beaches and the sea. But if you wish, you can swim away from the Bali Hai Pier to the nearest islands with clean, clear water. The sunniest time in Pattaya is from December to April. As on the island of Chang, where guests are waited by a peaceful eco-holiday on fabulous beaches, in the midst of pristine nature. Samui Island is a coconut paradise of the Gulf of Thailand. The dry season is from February to September. The best beaches are Chaweng Noi, Lamai, Ban Tai.

If a long flight is not an obstacle for the child, then Thailand will be an excellent option for a holiday. In cafes and restaurants there is a children's menu. In the markets you can buy fruit, in shopping centers - baby mixes, cereals, mashed potatoes and yogurts. Rarely, but there are tours with "All Inclusive" in Thailand, which can be convenient for holidays with kids. The hotels have swimming pools with slides, animation, mini clubs, cribs, high chairs and babysitting services are provided.

Family tours are better for spending on Phuket (in the winter) or Samui (in the summer). The easiest way to get to Phuket is direct flights here. On Samui - with a transfer. Phuket is just made for a fabulous holiday with children! They will love Kata Beach because of the gentle entrance to the sea. And Karon Beach will delight teenagers with water sports. You can visit the water parks, museum of sea shells, an aquarium, a dolphinarium, a botanical garden. Samui has the best beaches for children, with no sharp depth at the coast: Crystal Bay, Choeng Mon. Entertainment: Paradise Park Farm with beautiful animals, aquarium and tiger zoo, monkey theater.

You can not sit still and thirst for adventure? Thailand will fill them up to the very panama! The most interesting are crocodile farms, snake shows, Mini Siam Miniature Park, Bangkok with the Royal Palace and the largest oceanarium in Southeast Asia, Siam Ocean World.

Wildly popular with tourists from all over the world trips to the islands of Phi Phi. After all, one of them shot the film "The Beach" with Leonardo di Caprio. And in the Phang Nga Bay more than 40 emerald islands, including the famous James Bond Island. Here, too, always a crowd of onlookers. The excursion to the open zoo of Khao Kheo, where more than 8 thousand animals live, will be very positive.

Next to Khao Kheo, there is an excursion called "The Flight of the Gibbon" - an adrenaline ride on a cable car through tall trees in the jungle. Two-day excursion tours to the River Kwai invite you to visit the floating market, coconut farm, the village of elephants, a waterfall, hot springs and live in a floating hotel.

Thailand is the perfect place to do water sports and experience a storm of emotions! Similan, Phi Phi, Ao Nang Beach and Pattaya are easy to go diving. On Samui - windsurfing and fishing. In Phang Nga Bay, they make kayaking trips. The most popular place for surfing is Kata Beach in Phuket.

Thailand nightlife needs no introduction. The famous Walking Street in Pattaya, sparkling with neon lights, is blocked from cars every evening and until the morning it belongs to party-goers walking from club to club, from bar to bar. DJ play house, R'n'B, live music, flow of fun and cocktails. In addition to restaurants, bars and discos, throughout Pattaya they are invited to massage parlors and to Muay Thai boxing fights. Youth tours to Phuket promise vibrant nights with cool dance parties. They are held in the central part of Patong Beach. On the island of Phangan several times a month, Full Moon Party is thundered.
Book a tour to Thailand! One of the most amazing places on earth with Blessed Travel
Book tour online