Tours to Ancient Greece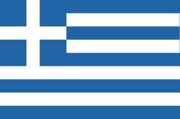 Official language - Greek
Capital - Athens
Currency - Euro
Telephone code - +30
Religion - Orthodoxy
Due to its advantageous location on the Balkan Peninsula, as well as the composition of the many small islands that are washed by the three seas, Greece every year becomes more and more popular among tourists. It is best to plan your trip to Greece from the beginning of April to the end of November.

Tourists of all ages will be interested to visit this country. Tours in this direction are chosen by those tourists who are looking for beautiful beaches, interesting excursions, as well as amateurs, or those who want to try the real Greek cuisine. If you plan to explore all the historical sights of Greece, you need to plan more than one trip to this sunny country.
Greek cuisine is a variety of vegetables, meat dishes and seafood, olives, cheese (the most famous and popular is feta) and wine. All dishes are generously seasoned with olive oil, lemon juice and local spices. Greek cuisine is truly delicious! Dozens of small meze hors d'oeuvres, octopus tentacles abundantly poured with lemon juice, fresh salad leaves in olive oil, huge pieces of lamb and large copper jugs with thick and tart Cretan wine. Greece produces about 500 wines. There are in Greece and stronger drinks, for example, ouzo - anisette. If you add water to it, it gets the color of milk. You can also try tsipouro (grape vodka) and mastic (resin-treated mastic wood).

Greece is a country of beaches. Extensive and small, cozy, sandy and rocky, on the mainland and on the islands, in large cities and small villages - wherever there is a sea, there are also beaches. All beaches in Greece are municipal. The swimming season begins in mid-May and ends in late October.

Coastal resorts are located throughout the mainland and on the islands: from the resorts of the Athenian Riviera to the beaches of the north-eastern coast of Greece and the peninsula of Halkidiki. The islands of Crete, Rhodes, Corfu, as well as numerous small islands, on which it is so interesting to travel, are very popular with tourists from all over the world.

Holidays in Greece is absolutely suitable for everyone. There are excellent conditions for kids and parents, romantic corners for lovers, sea and sails for athletes, SPA hotels for those who want to become more beautiful, noisy bars for young people, shopping centers for shopaholics and a rich culture for those who love educational holidays.

Your passport (must be issued within the last 10 years, contain at least 2 blank visa pages and be valid for at least 3 months after the expiry of the requested visa).
If you have an old passport with Schengen visas.
A copy of all passport pages except blank.
2 questionnaires filled out and signed by hand (passport data in Latin font).
Certificate of employment on company letterhead indicating the position, salary, date of admission to the position.
Hotel reservation.
Reservation ticket arrival and departure.
Documentation (credit card with an account statement, securities, etc.), confirming the availability of funds based on the calculation of the day.
Three current biometric photos.
Health insurance policy.